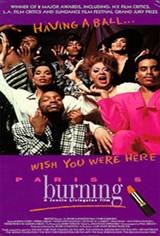 Paris is Burning
Poignant, well-received documentary that reveals the community of New York's minority drag queens, gay black and Latino men who cross dress as women and invent the dance style of voguing, imitating the fashion poses on the covers of the magazine Vogue. As director Jennie Livingston discovers, her subjects band together into family-like houses for protection, taking the same last names and competing in drag balls where awards are given out for authenticity or realness, as well as other categories like evening wear and executive wear. Both an embracing and a refutation of the world of high fashion, the balls become the social locus of this underclass, underground society of outcasts defiantly refusing to be ignored by a world that scorns them.

Paris is Burning (1990) was one of several critically acclaimed documentaries of the late 1980s and early 1990s excluded from Academy Award nominations, eventually leading to a reappraisal of the Academy's stodgy selection process.

Digitally remastered by the UCLA Film and Television Archive in conjunction with Sundance Institute and Outfest UCLA Legacy Project.
| | |
| --- | --- |
| Cast: | Brooke Xtravaganza, André Christian, Dorian Corey, Paris Duprée, Pepper LaBeija, Junior Labeija, Willi Ninja |
| Director: | Jennie Livingston |
| Studio: | Janus Films |
| Producer(s): | Jennie Livingston |