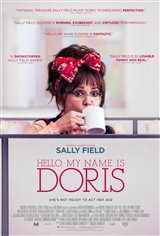 Hello, My Name Is Doris
When Doris Miller (Sally Field) meets John Fremont (Max Greenfield), her company's hip new art director, sparks fly — at least for Doris. Although she was once engaged, she never married because her fiancé wanted to move to another city and she felt she couldn't leave her aging mother alone.
In the cluttered house she shared with her late mother, Doris gets help searching the Internet from 13-year-old Vivian (Isabella Acres) — the granddaughter of her best pal Roz (Tyne Daly) — for information on her crush.
Eager for all the experiences she missed out on, Doris begins showing up at places where John's hanging out and wins over his friends with her quirkiness. Her new life gives Doris a new outlook, but her longtime friends and family feel she's making a fool of herself over a guy young enough to be her son.
| | |
| --- | --- |
| Cast: | Sally Field, Max Greenfield, Beth Behrs, Wendi McLendon-Covey, Stephen Root, Elizabeth Reaser, Natasha Lyonne, Tyne Daly |
| Director: | Michael Showalter |
| Studio: | Roadside Attractions |
| Producer(s): | Daniel Crown, Daniela Taplin Lundberg, Jordana Mollick, Kevin Mann, Riva Marker |
| Writer(s): | Laura Terruso, Michael Showalter |
| Official Site: | www.hellomynameisdorismovie.com |