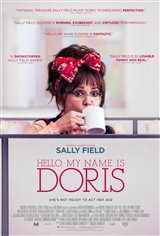 Hello, My Name Is Doris
36 Reviews
|
Write a Review
In Theaters: March 11, 2016
4.48/5
Based on 400 votes and 36 reviews.
64.81%

25.93%

5.56%

0.00%

3.70%
Please rate between 1 to 5 stars
Showing 1-10 of 36 reviews
January 11, 2018
I've watched it six times and love it and have great laughs and love "Doris.
July 7, 2016
Totally loved it!!!!!!!!!!!
July 7, 2016
I liked it, I really really liked it!
June 2, 2016
SO GOOD
June 1, 2016
A warm, comfortable movie with Sally Field performing perfectly in a role made for her. See it!
May 19, 2016
An excellent movie. Hopefully the positive reviews will encourage the movie makers that their focus should not always be sex,violence and general societal mayhem. We have enough craziness in our daily lives. Let`s hope that we can return to a more positive movie time.
May 18, 2016
This movie was so bad it defies all logic. There seems to a race to the bottom btetween the bad acting, poor writing, and bad cinematography. What surprises me is that anyone could rate this movie as acceptable.
May 17, 2016
The one person who gave this no stars is way off the mark. This was so funny, I couldn't stop laughing and my husband was howling when she was imagining the "kiss". It was just a lot of fun.
May 16, 2016
What a pleasant surprise! I have always liked Sally but sometimes find her roles full of fluff. This role is full of substance and depth of character. In my opinion she is an Oscar candidate! This movie is a pleasant surprise and very funny!
May 9, 2016
The audience was laughing out loud a lot. My husband and I want to see it again. No violence, no nudity and no swearing! This movie proves it is possible. Amazing.