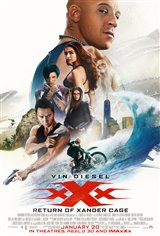 xXx: Return of Xander Cage
| 33 Reviews
Write a Review
In Theaters: January 20, 2017
On DVD/Blu-ray: May 16, 2017
3.44/5
Based on 128 votes and 33 reviews.
Please rate between 1 to 5 stars
Showing 1-10 of 33 reviews
May 2, 2018
The stuntmen who were working on this movie were great, the other stuff was not that great. It went away from the original idea of the first movie about a guy who loves extreme sports to the movie with top martial artists and the stunts were more like from Bond movie or Mission Impossible than XXX. The team around Xander wasn´t neccessary. They didn´t get enough screen time, and the bad-later-good Bollywood woman looked like 40 years old prostitute in these outfits and with her overdone ugly make-up. But maybe she should look much older to match Vin´s age better.
May 17, 2017
One of the year's ten best.
May 17, 2017
very cool movie
April 5, 2017
I kind of enjoyed the first one. Mostly because of Feuer Frei by Rammstein performed in the Czech church, I think. But this one was total crap. Skateboarding on the side of the bus!!!??? It proved to be too painful to watch.
April 2, 2017
What was the point of this movie? I did not get the essence of this movie. A lot of empty action blown out of proportion.
March 13, 2017
Stunts are too unbelievable, makes it seem hokey.
February 22, 2017
Absolutely wicked. The fighting scenes were totally amazing . Donnie Yen is surreal . Loved it totally great entertainment. Do we not go to movies to be entertained..... or do we go to try and see what is wrong with the movie!!
February 17, 2017
This movie was simply all violence, with no central story. I walked out after an hour, shaking my head........totally empty and stupid movie !!
February 10, 2017
I finally got a chance to go see this movie, and I LOVED IT!!!! Man...Cubes grenade launcher and the cargo plane scene, And some of the women OMG...I LOVE THIS MOVIE....I'm excited to get hold of my own copy....
February 2, 2017
it was very cliche and stupid