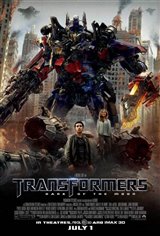 Transformers: Dark of the Moon
270 Reviews
|
Write a Review
In Theaters: June 29, 2011
4.48/5
Based on 3038 votes and 270 reviews.
77.92%

9.11%

3.62%

2.22%

7.13%
Please rate between 1 to 5 stars
Showing 1-10 of 270 reviews
December 24, 2011
HORRIBLE....WORST MOVIE FRANCHISE OF ALL TIME!
November 18, 2011
While the movie is better thanthe first 2 in teh trilogy, this still has to be the worst movie franchise of all time.
November 6, 2011
while better than part 2, it was still bad and way, way too long.
October 20, 2011
It was good action, but the acting was very bad, and the jokes were horrible!
October 2, 2011
Really liked it. Didn't know if they'd be able to replace Megan Fox's hotness, but they did.
September 25, 2011
It's okay. But by far the worst of the three. Can't take the Fox out and expect it to be a Transformers movie. It's like taking Jodi Foster out after Silence of the Lambs.
September 21, 2011
thank you for saving our world!!!!!!!!!!!!!!!!!!!!!!!!!!!!!!!!!!!!!!!!!!!!!!!!!!!!!!!!!!!!!!!!!
August 30, 2011
Really good movie. Love the humor mixed in with they fantastic action. Sam's mom is the hilarious in her short cameo!
August 27, 2011
Freaking loved it
August 14, 2011
This movie was NON-STOP ACTION once the story played out ! It involved themes from the G1 cartoon, and the story was well done ! Can't wait for the DVD release :)