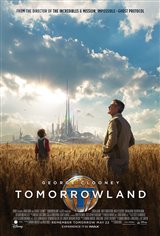 3.28/5
Based on 92 votes and 29 reviews.
Please rate between 1 to 5 stars
Showing 1-10 of 29 reviews
October 13, 2015
this is for all the dreamers out there. you are the future!!!
September 14, 2015
Inspirational storyline about technology and the future of society.
June 13, 2015
brilliant and very imaginative!
June 11, 2015
This movie was horrible. The story line was rushed and didn't make complete sense. I can't believe Clooney wasted his time on this
June 11, 2015
What a failure of a movie. Don't waste your money
June 9, 2015
I went to see this film with my two grandsons not expecting much but I was surprised. Good Disney movie and also amazing special effects. Some scenes were very funny. If you have kids, this movie is for them but adults will also enjoy it. I know I did.
June 9, 2015
The concept was great, but I was expecting just a touch less predictability in the plot. I also found the romantic storyline between an adult George Clooney and the child AI a bit odd.
June 8, 2015
I don't see where the critics find this movie slow, too long, boring, totally enjoyed this film, good effects and great story line, lessons showed here about where our world is headed if we don't change now, parents take your kids, teenagers to see this movie, Please!!!!!!!!
June 6, 2015
I was quite impressed with Tomorrowland despite some of the negative reviews. The beginning was a little different but once things picked up I thought the movie was very good as it had a decent storyline coupled with some decent action scenes. The message also delivers a message that everyone should listen to.
June 6, 2015
Interesting and fun but poor ending......