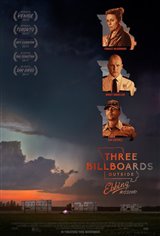 Three Billboards Outside Ebbing, Missouri
| 76 Reviews
Write a Review
In Theaters: November 10, 2017
On DVD/Blu-ray: February 27, 2018
3.77/5
Based on 414 votes and 76 reviews.
Please rate between 1 to 5 stars
Showing 31-40 of 76 reviews
January 19, 2018
This was an excellent movie! The acting was superb all around. You really felt for the characters, especially the woman that Frances McDormand portrayed.
January 19, 2018
I really wanted to like it. Lord knows you can't away from all of the critical praise that has been heaped on it. I just thought it was GARBAGE. End of.
January 19, 2018
Pretentious.
January 15, 2018
Frances McDormand is amazing. An angry, powerful, emotional darkly comic story. Awesome!
January 15, 2018
The movie captures you from the start and doesn't let you go.
January 14, 2018
This movie could have easily received five stars.... but what could have been a masterpiece had one real flaw in the addition of a plotless character. The over clever writing of the conclusion was a real flaw that gave no validation or vindication for any of the masterfully crafted characters. The performance given by the cast was stellar and it was a real disappointment that the story told, fell short in the end. I did not expect a cheesy, feel good ending, just something as thoughtfully written as the rest of the script.
January 14, 2018
Best movie I've seen in a long time!! It drew you into the lives of three main characters, very personal, intimate. I loved the pace of the movie, not rushed. I found it to be quite unique and therefore not a movie for everyone. I was very pleased it won Golden Globe for Best Picture!
January 12, 2018
Great acting! Saw this movie twice, and it only gets better.
January 7, 2018
To all the haters here and writing negative reviews....uhmmm, guess which movie won golden globe for best film?! 3 BILLBOARDS!!! Wooohooo, said it from the beginning that this movie was gonna win tons. Anyone who hasn't seen it yet, ignore all these negative reviews and give it a chance. :)
December 31, 2017
Hardly a "diamond" of a movie given the many holes in the plot and despite the many good reviews (imho) even with the often excellent acting. The lack of any even slightly likeable characters made the movie an arduous grind to my wife and I and we were glad when it was finally over. Ebbing MO, albeit a fictional town, is one angry and twisted place that should be passed by. There are also so many unbelievable and unlikely people, actions, and scenes in this story it does make me wonder, wth were the writers thinking? This movie also had a pretty short run in my city, which is telling, and I was not at all surprised once I had seen it and noticed a very small crowd in there with me. But no matter what anybody says (incl me) go see it if you want to (that is if you can find it still playing), but my best advice based on my personal opinion of the movie, would be to wait and watch it on PPV, or better yet, when it's on a free movie channel. That's all folks!