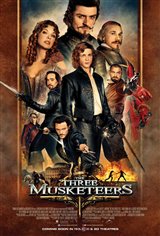 The Three Musketeers
75 Reviews
|
Write a Review
In Theaters: October 21, 2011
3.1/5
Based on 256 votes and 75 reviews.
17.36%

19.01%

36.36%

10.74%

16.53%
Please rate between 1 to 5 stars
Showing 1-10 of 75 reviews
November 23, 2012
I love movies like this. The stunts were great and Logan did an awesome job!!
July 19, 2012
1 1/2 stars just because it had a couple of cute moments. mila jovovich was upset because the studio didn't get behind this movie. i can see why...it's a supreme pile of poo-poo.
June 11, 2012
i found this movie surprisingly good with lots of action. i wasn't expecting much but i really enjoyed it.
January 8, 2012
bad
January 1, 2012
The movie had a good mix of humor. The costumes were amazing. It was time well-spent.
December 25, 2011
Excellent adaptation of a classic. Good cast and a creative take.
December 22, 2011
Milla Jovovich is great as always and underutilized in a slick modern re-imagining of The Three Musketeers. With an undeniable visual flair and fast paced action and likeable characters its good popcorn fun but you will soon forget it as you leave the theatre. A strong 3 stars
December 22, 2011
I like that a woman got join the all boys club! It was fun!
December 16, 2011
Loved it. It was an fun adventure from start to finish. It just goes to show that the classics are forever.
December 16, 2011
great movie i loved it