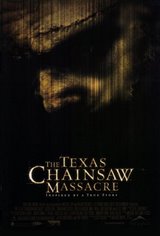 The Texas Chainsaw Massacre
4.09/5
Based on 9148 votes and 398 reviews.
Please rate between 1 to 5 stars
Showing 1-10 of 398 reviews
November 21, 2017
Many of the comments here are laughable. People actually thought this trash was scary?!? I've seen scarier episodes Scooby-Doo. This movie is total garbage. Watch Tobe Hooper's original masterpiece instead.
December 4, 2016
Total garbage. An insult to Tobe Hooper's original and its fans. No scares, suspense, or logic. It was already terrible enough without the casting of the reprehensible Jessica Biel.
January 14, 2013
Wow, this was amazing!
January 14, 2013
Amazing film ! SO scary!!!
June 17, 2008
it wa alright not that scary
January 13, 2008
Loosely based on the real story..The real killer,Ed Gein,who never even used a chainsaw and never lived in texas,nor was a local butcher,or had a demented family,was captured by the police and put into a mental institution for being declared insane by the court. He murdered people,and yes; wore their faces,and butchered their bodies,and other herendous acts including grave digging,where he used skins and parts of humans for his household appliances. The TCM was just based on the real events,not coming very close..and its strange how people can find stories which inspires true events of murcer,etc. entertaning,because all i see of it is using people who were killed by a sick killer,and puttin
May 7, 2007
The SCARIEST movei h ave ever seen! I wood NEVER watch it again..too scary!! LOL
January 17, 2007
this movie is completely terryfing..the most scary and gory horror movie i ever seen in my entire life..scared the livin he** out of me! i cant believe this really happened....this crazo wearing skin masks(yuck) truly terryfing!! wanna be scared to he**? this movie ll do the job...100% gaurenteed
January 4, 2007
it was pretty scary! i can`t believe someone would butcher people and cut their faces off!!
October 31, 2006
I wasn`t tramautized by this movie but I thought it was very creepy. I love horror movies and this movie was very good! Very very good. I loved it. 5/5