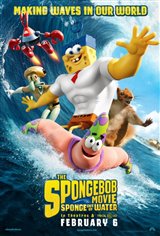 The SpongeBob Movie: Sponge Out of Water
26 Reviews
|
Write a Review
In Theaters: February 6, 2015
3.03/5
Based on 122 votes and 26 reviews.
40.63%

6.25%

9.38%

3.13%

40.63%
Please rate between 1 to 5 stars
Showing 1-10 of 26 reviews
July 7, 2017
And now its back, two years later trying to make more money. But it doesn't change the fact that it was a pretty uninspired animation. Boo-hiss!
March 31, 2016
Really, Really awesome.
March 31, 2016
Was a great and funny movie, that all of my family and I enjoyed
July 17, 2015
If I wanted to take a nap I would do it at home, the "SpongeBob movie" is about as fun as watching fecal matter drain into the Sewars
June 6, 2015
Not as many out of water scenes as the trailers made it seem like there was going to be, but over all I loved it! Great, funny movie!
April 19, 2015
Is so cool
March 30, 2015
Complete waste of my hard earned money. The trailer is so deceiving - having you expect there was going to be more out of water scenes - to only see (maybe) 20mins. My 9 year old son was sadly disappointed. Save your money and don't bother going...it was a DIVE !!
March 28, 2015
A good and funny movie
March 18, 2015
This movie was complete garbage. My 4 year old liked it but I found myself wondering who approved the script and why anyone would like it. Waste of time and money.
March 15, 2015
This movie was a complete waste of time and money. Do yourself a favour and go see something else. Antonio Banderas must be desperate for starring roles to embarrass himself by appearing in a garbage feature such as this.