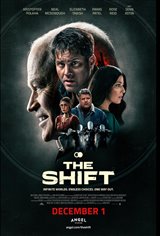 4.5/5
Based on 20 votes and 7 reviews.
Please rate between 1 to 5 stars
Showing 1-7 of 7 reviews
December 4, 2023
I generally like Christian films, and I like the actors in this film but I would suggest rewriting the ending. The choice was made to pick the insane girl to have the good life. Picking either himself or the girl was a choice to cut a deal with the devil instead of choosing God at all cost. So from a Christian stand point the film missed the mark. That said, making a film about the quantum physics concept of Many Worlds and discussing it in biblical terms was very interesting because the devil is not omnipresent and if the concept of unlimited dimensions is true a single being would be very busy harvesting human souls, jumping dimensions.
December 4, 2023
very well done...!
December 2, 2023
As a movie goes, I give it 5 stars for the acting and the emotional response it drew from me and all the people in the audience that discussed the movie with me afterwards. Also, it has a great message of good overcoming and conquering evil with the evil being eventually named as the movie progresses as his real name Satan. However the power of God and His name is not proclaimed as Jesus Christ, in the movie and is extremely lacking in giving the glory to His name. The cinematography was good but the Christian theme opportunity to announce and proclaim Jesus Christ was King, conqueror, redeemer, forgiver, counselor, almighty, alpha and omega failed. My prayers is that this movie will open the hardened hearts to those who have fallen away or are lost and give Hope to all those in despair as our government marches its citizens to Sodom and a Gomorrah!
December 2, 2023
I loved this movie, I was tired but the movie kept me alert.
December 1, 2023
Really enjoyed this movie. Sort of science fiction meets the book of Job.
December 1, 2023
Got bamboozled! Saw "drama, thriller", so I checked it out. Left when I saw "angel studios". Christian's forcing their agenda bullshit. You got me! Not next time
December 1, 2023
Don't believe the "rotten tomatoes " score- that's a lie this is a great movie.