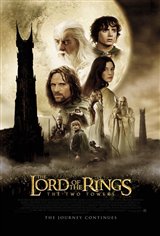 The Lord Of The Rings: The Two Towers
4.58/5
Based on 166718 votes and 772 reviews.
Please rate between 1 to 5 stars
Showing 11-20 of 772 reviews
January 20, 2006
LOTR:TT is amazing Peter Jackson is a fantastic director and made this movie one of my favorites of all time especially when Sam makes his speech about how there is some good in this world and its worth fighting for. I cry every time i see it.
August 10, 2005
I would give it less than 1 star but i can`t...
August 7, 2005
Absolutely brilliant, loved every minute of it...sad that they`re all done now
January 11, 2005
it is the best movie i ever seen only one character i like was one of the men that wasin the followship
December 21, 2004
I DESPISE GOLLUM ! PEOPLE TRASH TALK JAR JAR BUT I FIND THIS UTTER MESS OF A COMPUTER GENERATED CHARACTER TO BE A TRILLION TIMES WORSE THAN HIM!
December 3, 2004
ZZZZZZZZZZZZZZZZZZZZZZZZZZZZZZZZZZZZZZZZZZZZZZZZZZZZZZZZZZZZZZZZZZZZZZZZZZZZZZZZZZZZZZZZZZZZZZZZZZZZZZZZZZZZZZZZZZZZZZZZZZZZZZZZZZZZZZZZZZZZZZZZZZZZZZZZZZZZZZZZZZZZZZZZZZZZZZZZZZZZZZZZZZZZZZZZZZZZZZZZZZZZZZZZZZZZZZZZZZZZZZZZZZZZZZZZZZZZZZZZZZZZZZZZZZZZZZZZZZZZZZZZZZZZZZZZZZZZZZZZZZZZZZZZZZZZZZZZZZZZZZZZZZZZZZZZZZZZZZZZZZZZZZZZZZZZZZZZZZZZZZZZZZZZZZZZZZZZZZZZZZZZZZZZZZZZZZZZZZZZZZZZZZZZZZZZZ...
November 19, 2004
GOOD ,BUT ITS TO LONG AND TOO SLOW!!!!!!!
November 14, 2004
I think it was the best movie, ever!
November 13, 2004
Pretty good ,but it has it`s flaws: TOO LONG,A BIT SLOW & A LITTLE WEIRD & CONFUSING & GOLLIM JUST ANNOIYED THE HELL OUT OF ME !! HE`S WORSE THAN JAR JAR & C3PO COMBINED!!!!!!!!!!!!!!!!!!!!!!!!!!!!!!!!!!!!!!!!!!!!!!!!!!!!!!!
August 24, 2004
FAntastic..............WAY KEWl.......GREAT PLOT,STORY,and Characters. NUMBER #1 LOTR....FAN!