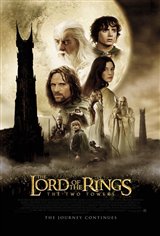 The Lord Of The Rings: The Two Towers
772 Reviews
|
Write a Review
In Theaters: December 18, 2002
4.58/5
Based on 166718 votes and 772 reviews.
88.34%

0.42%

0.82%

1.73%

8.69%
Please rate between 1 to 5 stars
Showing 1-10 of 772 reviews
December 27, 2019
Incredible, can see why it won multiple oscars!
December 27, 2019
Save ur time and money. Worse movie i've seen my whole life. Just men being so emotional about everything. Overrated. Bad acting and slow moving, it wasnt going anywhere
June 27, 2009
this was the best 2 hours and 59 minutes of my life
February 28, 2009
it was the best LOTR after Return Of The King. Peter Jackson is a genius. 5 stars
December 19, 2006
One of the best movies ive ever seen. This must have taken a lot of passion and effort to make.
October 3, 2006
this is one of the best movies of all time based on one of the best books of all time go if you havent seen this movie you need to go see it.
August 31, 2006
I have read the book at least 20 times SO FAR lol and I have to admit this is one book I thought could never be made into a decent movie.I was so thrilled to be wrong.I love the whole series and would highly recommend it to everyone.
July 31, 2006
i enjoyed this series very much. the suspence and the graphics were great!! i was kind of upset that it was the end , but it was good!!
July 26, 2006
absolutely a great movie i love this one the most out of the other Lord of the Rings movies i think
June 16, 2006
absolutely brilliant