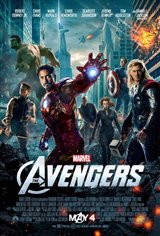 The Avengers
916 Reviews
|
Write a Review
In Theaters: May 4, 2012
PG-13 | Action, Adventure, Fantasy, Science-Fiction | 2h 23m
4.32/5
Based on 4232 votes and 916 reviews.
59.01%

20.82%

14.74%

4.21%

1.23%
Please rate between 1 to 5 stars
Showing 1-10 of 916 reviews
December 15, 2019
movie was not that great but like that robert downey jr was in it.
May 10, 2019
Movie was awesome Love the original Awesome team work
September 4, 2015
Robert Downey Jr makes all these movies happen! Chris Evans & Chris Hemsworth are yummy to look at. Good Movie
May 2, 2015
Loved it! Awesome fun!
September 9, 2014
Great Movie.
August 1, 2014
One of my all time top 5 movies. Very good entertainment. If you like super-hero/comic book movies you will LOVE this one.
May 20, 2014
This movie is so fun!!! Well, some parts of the movie was a bit boring, but still it was thrilling and fun movie ever!! I really recommend this movie to many people. In this movie, there are many heros as well, such as IronMan, Thor, Hulk, Black Widow, Captain America, Hawkeye, Awesome Movie!!!!!!
February 25, 2014
Fun but lightweight.
November 23, 2012
Connery, Fiennes and Thurman make this a must-see.
November 23, 2012
Great movie. Great cast. Loved it. Action-packed for sure.