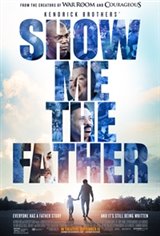 4.81/5
Based on 42 votes and 15 reviews.
Please rate between 1 to 5 stars
Showing 1-10 of 15 reviews
October 3, 2021
Great movie! I took my younger daughters. One wanted to climb into my lap as we watched. The other said as we were leaving, "When you said it was a documentary I almost asked you to take me home. I'm so glad I didn't!! It was amazing!' Both of my daughters I brought with me said they loved it and we HAVE to buy it when it comes out on DVD
October 1, 2021
Execellent, thought provoking especially if your father was not affirming and awol.
September 22, 2021
I am a woman who does not particularly like football and my father is deceased, but loved this!?? Inspiring.
September 18, 2021
I have never experienced a movie that touched my heart like this one!
September 18, 2021
This movie nailed it and spoke to my inner most being like never before!
September 17, 2021
Beautifully done, documentary style, inspirational! Great for all! Showcases God the Fathers ultimate love for us and His plan for fathers to walk in His example. Wow if only all men followed His plan you would have a completed different society!
September 15, 2021
The movie was written and based on true life stories and gives hope in a time when hope is needed. It is not a "feel good" movie but a good movie about real people. The Kendrick Brothers always do a great job.
September 14, 2021
It is an incredible true story of fatherhood. Every father will be encouraged and challenged by this film. A must see!
September 13, 2021
This documentary movie was put together very well. It showed am issue and a solution to the issue at hand. It told of people's lives and what happened in their lies. I have noticed some comments here talking about bad actor's and actresses. This is not the case these are actual people and their actual experiences. I would recommend to anyone to watch and be touched .
September 12, 2021
This movie documentary shows and addresses the core problem in (not only this country) but the whole world! The absence of an earthly father can play havoc on a child's life whether he was a good father or bad father! The documentary addresses the problem and expands on a loving creator who is the father of us all and how he is there even when your earthly father has let you down and no longer is part of your life! I think the lesson here is that you are loved by a Heavenly Father and that he is here for us to help guide us on the road of life. Worth watching with your whole family but the emotions may get you!