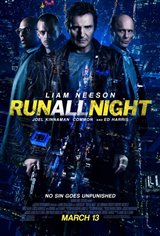 3.43/5
Based on 28 votes and 12 reviews.
Please rate between 1 to 5 stars
Showing 1-10 of 12 reviews
August 17, 2015
The whole movie is about one night and still not enough action, bad story, did not like it at all.
July 4, 2015
Good action movie
March 30, 2015
Run out of the theatre...enough said.
March 29, 2015
This movie is average at best. Honestly people there are way better action movies out there than this. To the ones that say this is a great movie they don't know nothing. Hate to see what they say to a great movie the opposite that it sucks.
March 21, 2015
One of the best movie! I really enjoy it. my daughter and my husband like it too a lot. Every scene is worth watching. I would say this is what you called entertainment! Very good actors.
March 16, 2015
Awesome action-packed movie! Liam Neeson is great in this film. We both enjoyed this one!!
March 16, 2015
Doesn't really work, unbelievable. Pretty senseless killing. John Wick was a similar movie, but much, much better if you like revenge movies.
March 16, 2015
This is a one day rental movie. Movie is not that great. The action scenes are average typical shooting scenes and some car chases nothing new that has not been seen before. Story line is some what predictable as what father would do anything to protect his son in this case or daughter is some other movies. I was not impressed felt like I got scammed and wanted my money back. Stay home people rent it if you want to see it.
March 14, 2015
Non-stop action. Original story, what would you do for your kid? Fathers and sons were portrayed excellently by the actors. Recommend seeing.
March 14, 2015
Movie is a really good action adventure movie. Liam Neeson is at his best and its well worth seeing. My wife even liked it and she is not a big fan of action adventure.