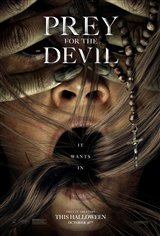 Prey for the Devil
6 Reviews
|
Write a Review
In Theaters: October 28, 2022
On DVD/Blu-ray: January 3, 2023
3.3/5
Based on 20 votes and 6 reviews.
50.00%

0.00%

10.00%

10.00%

30.00%
Please rate between 1 to 5 stars
Showing 1-6 of 6 reviews
January 30, 2023
Right up there with The Exorcist, which traumatized me as a child. Not that I'm older I don't scare any longer but this movie is very well done and has some nice twists. One of the best movies I've seen in awhile, especially since Waweewood became 'woke'.
December 3, 2022
The loud bangs kept waking me up. A snooze-fest. Boring. See the Exorcist again instead.
November 11, 2022
wHO CAN RESIST A gOOD eXORCISM ??? ESP. One that is Well DONE? I can't, and this one WAS, not sure about the whiners here! It WASN'T 'trite' or Tired, and there were the Kind of SCARES I like to SEE when I plunk done my change at 'the theatre'. I will say, if you LIKE 'Exorcist' flicks w/some great characters & really scary scenes, I think you'll get your $$$ worth!
November 3, 2022
Pretty lame, Milhouse.
October 30, 2022
A new twist - a female exorcist - Sister Anne played by Jacqueline Byers - an awesome performance. The movie has several conflicts and and enough scare. Very enjoyable Halloween movie.
October 29, 2022
wasn't scary at all - HO HUM