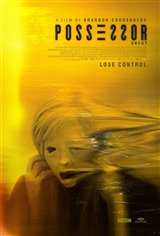 Possessor Uncut
9 Reviews
|
Write a Review
In Theaters: October 2, 2020
Horror, Science-Fiction, Thriller | 1h 42m
2.22/5
Based on 18 votes and 9 reviews.
22.22%

11.11%

0.00%

0.00%

66.67%
Please rate between 1 to 5 stars
Showing 1-9 of 9 reviews
October 25, 2020
The film pulls no punches viscerally but it's story and intent might be missed if the viewer is more inclined to Hollywood blockbusters and superhero films. the last frame of the film is telling.
October 14, 2020
Unusual and original. Loved it! Written and directed by David Cronenberg's son. If you like your movies spelled out for you, not for you. People saying it's not for children- no sh*t.....it's rated R.....
October 6, 2020
The movie made no sense. Acting sucked. Basically porn in theatre.
October 5, 2020
Waste of time and money
October 5, 2020
Always a MORON in the crowd that gives a junk movie 5 stars.....doubt they know what a good movie is.
October 5, 2020
Probably one of the best horror movies I've seen
October 3, 2020
The worst movie I've seen in a long time. No a very very long time. Very Limited plot. Lots of shots of the Toronto skyline, lots of shots of blood and more blood. Sex scenes for no reason. Lost of bright lights and loud white noises and people walking around disoriented.
October 3, 2020
Blood and gore to the extreme. Nude scenes are beyond R rated. Not for children.
October 3, 2020
Its extremely violent and bloody. Nudity on the X rated level. Definitely not suitable for children.