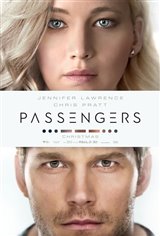 3.86/5
Based on 196 votes and 63 reviews.
Please rate between 1 to 5 stars
Showing 1-10 of 63 reviews
August 10, 2017
GARBAGE!!! AND JENNIFER LAWRENCE IS UGLY!!!
July 21, 2017
My favorite love story in the universe! I used to love Titanic the most, but I absolutely love this romantic spaceship one better.
June 15, 2017
Entertaining movie with a believable story line and above average acting. I was impressed with the realistic set designs of what an interstellar space craft might look like, inside and out. Definitely one of the better sci-fi movies of the year.
March 24, 2017
Really fun movie. Lawrence and Pratt are such versatile actors and really make you feel their emotions. Pratt's humour translates so well giving him a realistic and believable character. Special effects, storyline, characters and script were fun and exciting. The only reason I didn't give it 5 stars was, that I felt the ending was a bit lacklustre and disappointing. I encourage anyone who likes these two talented actors, sci-fi and incredible special effects to watch!
March 22, 2017
Great movie when there are so little good ones, lucky if they're worth watching the entire movie @ good This was very good! Recommend
March 15, 2017
Pretty good movie, laughs, action, not bad.
February 27, 2017
Really good my heart was pumping the entire movie
February 17, 2017
such a great movie - great acting - the graphics are great
February 14, 2017
Best Sci-Fi movie we have seen in a long time ! Fantastic !!!!
February 5, 2017
THIS WAS A VERY NICE MOVIE. I WAS VERY SURPRISED BY THE STORY.