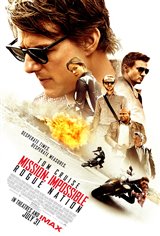 Mission: Impossible - Rogue Nation
4.25/5
Based on 204 votes and 65 reviews.
Please rate between 1 to 5 stars
Showing 1-10 of 65 reviews
December 29, 2015
very entertaining
September 30, 2015
This was the best Ethan Hunt performance ever! the plot, the motorbike chase and entire movie was fantastic.
September 18, 2015
Awesome hi energy movie with stunts galore! Refreshing to see a movie without foul language. Enjoyed the suspense mixed with humour. Great nite out... Tom does not disappoint! Great motorcycle chase scene...
September 10, 2015
My husband and I went to see it twice. It was entertaining, exciting, humor, full of actions. Good plot. Good dialogue. Most of all great casts, good chemistry, with Tom Cruise as usual at his best. Newcomer Rebecca Ferguson - hope to get her name correct, she is excellent. Can't wait for next one. Thank your for great entertainment. Highly recommend.
September 8, 2015
Saw it twice and loved it twice as much the second time. Simon Pegg adds the perfect comic relief and the girl is gorgeous and a great fighter too. Proof that no swearing or nudity needed to make a great flick.
September 7, 2015
If you like ACTION packed... this was it! The acting was excellent... the plot sufficiently twisted to hold one's attention... and I felt the female lead was superb... much of the story was filled with impossible feats, and the long "chase" scene incredible... but I think thats all part of the "Mission" of this series... and it was totally fulfilled. Enjoyed it... more than I expected to!
September 6, 2015
Mission Impossible: Rogue Nation is a great movie!! Lots of action!
September 5, 2015
So far, I have never been disappointed with the excellent plot, acting, and Action in a Mission Impossible movie. And this one is NO exception. Great entertainment!!!