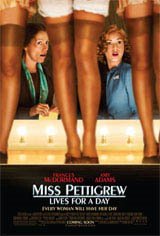 Miss Pettigrew Lives For a Day
15 Reviews
|
Write a Review
In Theaters: March 7, 2008
4.52/5
Based on 30496 votes and 15 reviews.
58.13%

39.53%

0.28%

0.23%

1.84%
Please rate between 1 to 5 stars
Showing 1-10 of 15 reviews
June 25, 2017
I don't know what to make of this; nice poster, though.
June 24, 2017
1000/10, LOVED IT!!!
August 17, 2010
The dialog is well written. Sort of felt like I was watching Chicago without the music. This sort of movie is for someone that has time to follow a story and likes a feel good story. Not for someone that is in a hurry, with a bunch of talkers, or wants something fast moving.
October 5, 2009
Great move. Absolutely adorable, feel-good and charming.
July 28, 2009
i seriously just hated this movie
July 11, 2008
i dont like this movie at all
July 5, 2008
this movie sucks big time
June 18, 2008
frances mcdormand and amy adams did so bad in this movie that its horrible
May 29, 2008
Wonderful in every way!! 5 stars
May 15, 2008
they have to make 0 stars for this.