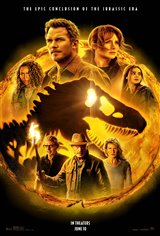 3.49/5
Based on 144 votes and 42 reviews.
Please rate between 1 to 5 stars
Showing 1-10 of 42 reviews
July 4, 2022
The movie brings back all the old characters (mixed with the new), like a Golden Girls sitcom, to take on the giant evil corporation and to protect the Earth's climate. Its drags to introduce the cast of character, speckled with propaganda, and never truly defines where the little girl came from but insists she was original cast. Old dinosaurs, returning lines and remade scenes from the original movie just left me saying blah as I was leaving the theater.
July 3, 2022
Exciting end to a great series.
July 2, 2022
I liked seeing original cast. Liked new dinosaurs. And my favorite dinosaur… Blue of course, with baby Blue.
July 1, 2022
Awesome movie.
July 1, 2022
Love the old characters coming back into the mix. New dinosaurs, old dinosaurs and lot's and lot's of action. Really, really good. I will see it over and over agains
July 1, 2022
Like watching "Groundhog Day" but not funny. Where's Bill Murray when you need him. Same old, same old.
June 26, 2022
"Several generations of dinosaur enthusiasts battle an evil pharmaceutical company and have Impossibly close escapes from dinosaurs in a tropical jungle in the middle of snow-capped Italian Alps. The hero is a black CIA agent and a black lesbian pilot who survives a fatal air crash with not even a scratch. Then an oriental scientist alters DNA in giant locusts to save the world from inevitable famine. And, eventually, all the dinosaurs and people live in harmony with each other and nature, like it was meant to be``
June 26, 2022
Jumped the Meg shark
June 26, 2022
Loved seeing all the old characters - a little slow as they brought each character into play but I'd see it again as I'm sure I missed someone or something from the past!