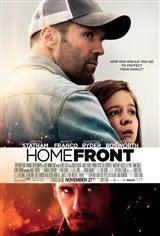 Homefront
20 Reviews
|
Write a Review
In Theaters: November 27, 2013
R | Action, Adventure, Documentary, Thriller | 1h 40m
4.21/5
Based on 48 votes and 20 reviews.
58.33%

20.83%

12.50%

0.00%

8.33%
Please rate between 1 to 5 stars
Showing 1-10 of 20 reviews
July 9, 2017
Great movie
February 25, 2017
Jason statham out standing perfomence But we need a part 2 For more action and to complete broker and that teacher of maddy
July 14, 2014
excellent plot. actors believable. edge of seat movie. don't see how it could be written any better except could have had less F words! But that is just my taste in language. Good guy and little girl wins! Good ending!
March 13, 2014
the only reason why i'm writing this review is because this movie is awesome. very intertaining. lots of action and punches from "Broker".
March 11, 2014
Like usual Jason Statham gave a great performance and very entertaining. Young girl played her role very well too. I enjoyed the movie alot
February 21, 2014
Standard Statham movie. Starts slow to kick-butt climax. A lot of characters but no development. Like I said...standard action flic. A little dark for my tastes. A dvd rental for sure.
December 23, 2013
I thought this was an excellent movie. Jason was at his best of all the movies he has been in. I gave it a 10 out of 10. I cannot wait to buy this movie. It had a good plot, good actors and wonderful scenery and score
December 14, 2013
hohum
December 13, 2013
Excellent. It keeps me & my GF in the seat the whole time. Good plot, beautiful scenery, great action and Jason, Jims & Kate is awesome!
December 11, 2013
Such a good movie! Really good, I'm so glad I saw this one!