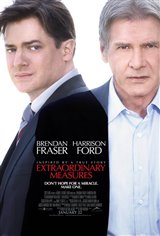 Extraordinary Measures
13 Reviews
|
Write a Review
In Theaters: January 22, 2010
PG | Drama | 1h 45m
3.74/5
Based on 51 votes and 13 reviews.
51.85%

7.41%

11.11%

22.22%

7.41%
Please rate between 1 to 5 stars
Showing 1-10 of 13 reviews
June 8, 2015
Heartwarming story - just a very bad execution.
July 16, 2010
while there are some holes in the plot, overall this was a very touching story of a father's desire to save his kids. I liked the performances of Harrison Ford and Kerri Russel. I thought maybe Brendan Fraser was missed-cast, but the story/movie works regardless.
February 23, 2010
One of the best movies this year. It kept me on the edge of my seat. Very dramatic, although predictable ending. A must see!
February 6, 2010
Acting generally fair, Ford a bit over the top. Belongs more in the category of movies made for television.
February 4, 2010
Fantastic story. The Crowleys are surely an extraordinary family. Based on a true story. Harrison Ford and Brendan Fraser give remarkable performances. See this film, you won't be disappointed.
January 25, 2010
There is a lot of drama in this great movie, which won my admirations. Should be seen by everyone. Love it!
January 24, 2010
This is a movie well worth seeing. No special effects, no swearing, no car chases, just very good acting. A compelling story line which leaves you with a very good feeling. This Father was an amazing individual who put everything on the line for his children.
January 24, 2010
My husband and I both loved this movie. Very well done.
January 24, 2010
Very inspiring. I strongly recommend it for both males and females.
January 23, 2010
Amazing movie. Go see it!