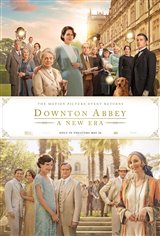 Downton Abbey: A New Era
| 41 Reviews
Write a Review
In Theaters: May 20, 2022
On DVD/Blu-ray: July 5, 2022
PG | Drama | 2h 4m
4.77/5
Based on 100 votes and 41 reviews.
Please rate between 1 to 5 stars
Showing 1-10 of 41 reviews
January 20, 2023
i went with my grown daughters and we all loved it. The acting is superb, the storyline is captivating, the ending is very touching. We will all miss Lady Grantham played so beautifully by the beloved Dame Maggie Smith.
June 28, 2022
Maggie Smith. I will miss her in future movies of Downton. The whole cast and story line.👍
June 23, 2022
I am NOT a Downton Abbey fan. Still not. I thought this was more for the British and very conservative much older seniors ( am 72 ). Not boomer seniors. However, this proved to be quite entertaining especially adding the the movie company to the Abbey and all the antics. Do not want to give anymore away. However, must we always seem to include the gays/lesbians in our films now??? It gets rather tiresome. They are a minority not majority. Otherwise an enjoyable movie.
June 16, 2022
I liked the way the old gave way to the new: people and plot. Not a rehash - nice transition. The gay twist was refreshing and progressed naturally.
June 16, 2022
Nothing to dislike, it was better than the first movie and tended to keep one in one's seat. Not there was anything wrong with the first one but this did top it. I wonder if they will do a third. At any rate do not miss it if you are a Downton fan or even if you are not. Just fantastic.
June 13, 2022
I like that there were so many twists and turns in the plot and it always kept you guessing. I also enjoyed the costumes they were absolutely magnificent. I believe it is a must-see movie for those who enjoyed the series of Downton Abbey. And even if you didn't see the series oh, the movie is very entertaining and easy-to-follow. So what are you waiting for?
June 10, 2022
It's a nice little movie, very pleasant, with likeable characters. I think it is for Downton Abbey fans only. The problems of rich people - how will we pay for the repairs on the mansion? Who will inherit the house in France?
June 9, 2022
FANTASTIC!! A MUST SEE!
June 5, 2022
When you're alone and life is making you lonely you can always go Downton.
June 5, 2022
This is everything you would expect and more in a Abbey adition. Beautifully done, keep going