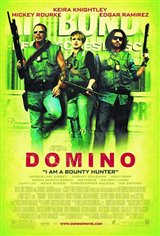 3.79/5
Based on 489 votes and 25 reviews.
Please rate between 1 to 5 stars
Showing 1-10 of 25 reviews
October 15, 2006
Awesome movie, not much finer than a bad-ass chick with a gun... Kiera Knightly was amazing. the story was wild, actually totally crazy at times. This movie is not for everone, but it was my kind of movie
October 11, 2006
Domino is the kind of movie you take at face value. You can sit and watch it then forget it later. The thing I liked most about this movie was the music. Also I love Tony Scott`s directing style, which is very distinctive. But not the best movie in the world.
March 3, 2006
pretty crappy
March 1, 2006
not as good as I was expecting. Interesting choice for Knightly, I don`t think this helped her career any. I was expecting violence but it was very disjointed to watch...confusing at times. A bit disappointing.
February 25, 2006
This was by far the best Tony Scott movie i have ever seen the visualization was incredible!!! And also what i liked was that at the end he showed all of the names of all the people who stared in the movie but what i found remarkable was that Tony put in the real Domino Harvey. 5 STARS *****/***** Very well done if any of you read or see this movie i thank you for putting this movie to the top.....HUMBLE
February 23, 2006
If you have two hours to kill, then watch the overblown music video, `cause that`s what it is.
October 22, 2005
Kudos to Tony Scott. The Scott brothers continue to be the avante guarde directors of their generation. Directoral substance and style is fleshed out by Scott`s mastery of bringing out the hidden personna of many actors. This is Knightley`s break out part. Yes, she is only 20. Mickey Rourke treats us once again to his characature of el muy macho. Check out the homage to brother Ridley tatooed on Domino`s neck from Blade Runner,"...like tears in the rain...time to die". Tom Wait in a `caddie`sermonizing...nice statement. From one who`s..."in between"...`Scott Free` keep `em comin`.
October 21, 2005
Awesome movie, it was artistic and really well done, and Choco was hot. good movie all around.
October 21, 2005
this movie made me sick. it was not what i expecteded. i thought it was about her life and how she got to be a bounty hunter. instead there was tooo many things going on and it kept confusing me. actors were great but too much going on very confusing.
October 20, 2005
This movie was nicely shot and had a great story to it. You really get into Keira`s Character of Domino. I would definetly tell everyone to check this one out. For some reason it was all people over 50 when me and my friend went to see it. But heck they loved the movie and so will you. Plus Keira Half dressed was a bonus. PCW-Vortex Rulez..Thanks