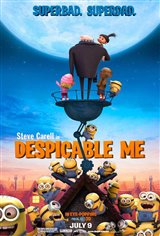 Despicable Me
368 Reviews
|
Write a Review
In Theaters: July 9, 2010
4.22/5
Based on 1372 votes and 368 reviews.
46.68%

34.60%

14.38%

2.85%

1.49%
Please rate between 1 to 5 stars
Showing 1-10 of 368 reviews
March 16, 2011
It was cute and most of the characters were likable. The story on the other hand was sub-par: the moral dilemma was forced, the villain was non-threatening, the climax was unexciting, and the ending was predictable. Unlike most animated pictures nowadays, it's more for little kids and less for everyone.
February 24, 2011
Really cute...lots of laughs
January 29, 2011
My daughter and I love this movie. It's great for kids and can keep adults entertained too...
December 21, 2010
this should be a oscar nommenie wait no no oscar winner
December 19, 2010
I watched this movie with my boyfriend and it was absolutely adorable ! Luckily, we watched it in 3D and there were many features that I agreed would be best saw in 3D
December 13, 2010
I thought the beginning was hilarious but got a little boring near the end without the craziness and just sappy.
December 12, 2010
I loved this movie. So cute.
December 11, 2010
quite funny
December 11, 2010
my favourite animated movie Ive seen it 3 times now and still laugh at most of the jokes must watch movie
December 10, 2010
GREAT MOVIE FOR ANY AGE! TYPICAL HOLLYWOOD "LESSON LEARNED" AT THE END BUT A FUN AND ENJOYABLE MOVIE