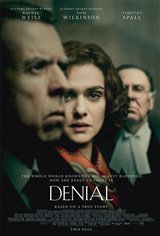 Denial
| 12 Reviews
Write a Review
In Theaters: September 30, 2016
On DVD/Blu-ray: January 3, 2017
PG-13 | Drama | 1h 50m
4.2/5
Based on 32 votes and 12 reviews.
Please rate between 1 to 5 stars
Showing 1-10 of 12 reviews
January 16, 2017
A terrific movie about a true story I didn't know. Rachel Weiss is so good as is the supporting cast. Well filmed and directed. We left truly moved and informed by the story.
November 2, 2016
mediocre
November 1, 2016
Very moving.
October 31, 2016
Just excellent. Best movie I've seen in years!
October 26, 2016
Excellent! I wanted to see it from the legal perspective and the cast did an fantastic job of presenting it coming from the British angle. Definitely worth of some Oscar nods. This movie shows some things are worth fighting for.
October 25, 2016
An excellent and thoroughly engaging movie with an outstanding script. I would give it 6 stars! Superb acting, very well cast. Not to be missed for its emotions and the human tragedy, sensitivity, empathy, and strategic legal minds.
October 24, 2016
My husband and I went to see this a couple of weeks ago and I must say it was very good indeed. Interesting from a legal viewpoint when she wanted to bring survivors to speak but had it explained to her why not to. Solid performances and interesting to see Auschwitz as we had visited Krakov and the camp four years ago. It is very bleak there but that just adds to the atmosphere. I would recommend visiting both- the camp and the movie.
October 22, 2016
Excellent script, the movie was captivating from beginning to end.
October 21, 2016
Sorry to the very few people in the theatre tonight for my snoring. Movie went down hill quickly after the concentration camp scene. My level of consciousness wasn't far behind. zzzzz