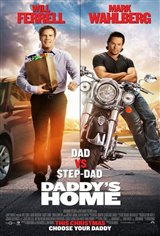 Daddy's Home
35 Reviews
|
Write a Review
In Theaters: December 25, 2015
3.27/5
Based on 120 votes and 35 reviews.
38.18%

20.00%

1.82%

10.91%

29.09%
Please rate between 1 to 5 stars
Showing 1-10 of 35 reviews
May 7, 2016
Hilarious! Walberg definitely is an awesome comic straight-man and has a great sense of humour. I don't know why this man doesn't laugh at everything Will Ferrell says or does because he's funny as hell!
April 15, 2016
Did not even finish it!
March 29, 2016
Not as funny as "The Other Guys" but still pretty funny.
March 25, 2016
Full of cliches and stupid jokes. Will Ferrell is clearly a one-trick pony "actor" so I get why he's in this moronic flick, but Mark Wahlberg what were you thinking?
March 25, 2016
Best Will Ferrell movie i've seen . Not as crude as most of his movies such as Anchorman 2 or The Campaign . Sure , it is silly at times but good enough story and plenty of laughs . Enjoyed it.
February 6, 2016
I love this movie
January 31, 2016
Funny lol
January 28, 2016
Predictably stupid beyond belief. What's really scary is the people who come out here and say how great it is. Future leaders or losers?
January 23, 2016
Hilarious. Laughed from beginning to end
January 18, 2016
So clever and uproariously funny!