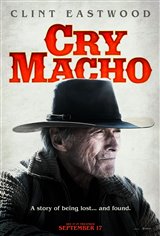 Cry Macho
| 23 Reviews
Write a Review
In Theaters: September 17, 2021
On DVD/Blu-ray: December 7, 2021
3.33/5
Based on 56 votes and 23 reviews.
Please rate between 1 to 5 stars
Showing 1-10 of 23 reviews
December 7, 2021
Very poor writing and acting... I hope the $$ made off our backs goes anyone other than the stinky rich here. Profit needs to support those most in need where shown in film NOT Hollywood moguls and icons
November 9, 2021
Terrible acting (Dwight Yoakum and the actor playing the boy were among the worst). Implausible events. Script that strained all credulity. See any movie other than this one. You'll thank me.
November 8, 2021
Clint is slipping....this was badly directed.
October 5, 2021
This is one of if not the worst Clint movies I have seen and I have seen a lot time to pack in the acting role for sure has past the BBD .
October 3, 2021
The script, the delivery of lines, and lack of energy make for a cringe-worthy film to watch and feel embarrassed to watch. Eastwood needs to stay behind the camera now. Very disappointed.
October 3, 2021
I enjoyed the character development of Clint Eastwood bonding with a teenage boy. The boy had been floundering through life, without any decent adult role models. There is also a subtle message, that loving relationships can develop at any age, whenever one kind soul with integrity meets another kind soul, who also has integrity!
October 2, 2021
Great movie. Clint is still a tough old bastard. Clint Eastwood could hit you so hard, your great great great grandchildren will be aborted years from now. Why you little whippersnappers! Back in my day we had to box kangaroos just to get into shape to go to school and deal with the teachers, who would rip off your head if you looked at them sideways while spelling a word. You little punks!
October 2, 2021
Fine film. Not for sissies.
October 1, 2021
Was disappointed. Not up to Clint's level. Weak acting all around. Sorry Clint . . . I hate myself for writing this.
October 1, 2021
VERY WEAK ACTING AND DIALOGUE CONGRATS CLINT FOR TRYING