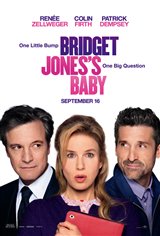 Bridget Jones's Baby
| 33 Reviews
Write a Review
In Theaters: September 16, 2016
On DVD/Blu-ray: December 13, 2016
3.78/5
Based on 382 votes and 33 reviews.
Please rate between 1 to 5 stars
Showing 1-10 of 33 reviews
July 21, 2017
Didn't love it , didn't hate it, but I watched it.
November 13, 2016
I wish there were more stars I could give this movie. I am a big Bridget Jones fan and I must say I was a little hesitant about this movie, based on the promotional material that was put out there - it turns out that it was the funnies Jones movie out of the three. The Diary was the best overall, the Baby was the funnies. Renee nailed it again (i was anxious about her getting back to this role) - she was the real deal. Colin Firth was a little more mature, but just as good looking as before. Not a big fan of Patrick Dempsey (i guess it's a preference), wish it was Hugh Grant, he really does fill up the screen in his own way. Overall, the movie exceeded my expectations. Whoever did the promotions for this movie should have been fired in my opinion...
November 12, 2016
I loved it, I'm from the UK and it was a really good laugh!
November 6, 2016
Really a fun way to spend a couple of hours. We laughed out loud on several occasions and enjoyed the unfolding story. Too bad Hugh Grant couldn't be in it but maybe next time.
October 27, 2016
Very funny and very heartwarming
October 15, 2016
I also found it odd for this actress to play the part of an expectant mother. She is much too old for that. I did not find this film funny. I was dragged to see it with my mum.
October 15, 2016
Wish i could give it 1 star. Ugly actors, weird voice , not funny guys. Old lady having a baby. This actress looks like she's 70 years old having a baby... gross.
October 15, 2016
This should be a TV movie. It's slow and not much happening . Myself and 2 friends were not impressed.
October 15, 2016
I cannot stand this actress. The story is a bore.
October 15, 2016
Hilarious! The best of the series. Great story, wonderful actors and a perfect way to spend a couple of hours.