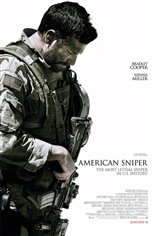 4.02/5
Based on 210 votes and 55 reviews.
Please rate between 1 to 5 stars
Showing 1-10 of 55 reviews
November 12, 2020
A powerful award worthy performance by B. Cooper (I think his best) in portraying super patriot Chris Kyle. Though an unjust war, the film was not a blood-fest, but displayed (not as gory as it could have been) some of the inhuman acts of violence, & emotional toll war takes on a person. No less important, is the anxiety & stress on the family left behind. I saw this movie in 2014, but with time impressions fade, Seeing it again, I realized again how great a movie this is. I liked that the film covered all facets of Kyles life giving insight of the kind of man he was. However, I was the only person in the IMax so social distancing wasn't a problem. Shout out to Cooper & Eastwood ! The actual Funeral Procession was a great ending to the movie. RH
February 20, 2020
great movie
February 20, 2020
so good. love the military. Bradley cooper was great as chris kyle.
November 26, 2019
Great military movie and Bradley cooper's role model as Chris Kyle is great.
April 30, 2016
Love Clint Eastwood but its too bad he sold out and made this Edward Bernays total propaganda crap.
May 26, 2015
It's easy to see why this movie was such a big hit ... it's gritty, gripping and leaves you breathless. I also love bathing in the tears of all the morons who hate the movie, and can't deal with the fact that it was such a resounding box-office success. To see the DVD at the top of most DVD sales and rental charts as well now must really sting!
May 25, 2015
A wonderful piece of fiction about a convicted liar who kills people in an illegal war of aggression and then gets shot by another vet with PTSD at a gun range...if that ain't karma I don't know what is. Clint Eastwood lost all credibility with this BS circus flick
May 19, 2015
"War propaganda bla bla bla" ... no it's not, sad little haters. It's a movie about humanity, and the horror of war. Eastwood's best to date. Saw it in the theater and can't wait to find some time to see it again on DVD.
May 19, 2015
War propaganda appealing to the basest of human common denominators glorifying a notorious racist and liar (convinced of lying by a US court of Law). Lousy way to end an otherwise illustrious career for Mister Eastwood.
April 23, 2015
Excellent movie, Gives you some thought of what they go through every day.