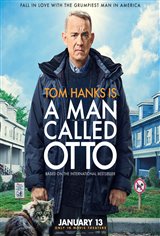 A Man Called Otto
| 89 Reviews
Write a Review
In Theaters: December 30, 2022
On DVD/Blu-ray: March 14, 2023
4.26/5
Based on 218 votes and 89 reviews.
Please rate between 1 to 5 stars
Showing 1-10 of 89 reviews
March 24, 2023
So boring I left early on. Nothing funny or entertaining about depression, losing a spouse, or Hank's acting. His son, who portrays a younger Otto, was equally as boring and ceretainly has no acting skills or personality. Waste of time.
March 7, 2023
Funny, sad, goofy…entertaining.
March 2, 2023
Loved the movie, made me cry made me laugh. Tom Hanks was fabulous. Would definitely watch it again
February 26, 2023
Love Tom Hanks… the movie was good!! Took my sister to see it and she loved it also.
February 25, 2023
I loved this movie and plan to see it again with my sister who had not seen it.
February 25, 2023
This was a movie about a grumpy old man that didn"t want to go on without his beloved wife. When he got envolved with all his neighbors it turns out he had a BIG heart after all. It was funny and sad. It had my eyes tearing up so any movie that does that has got to your feelings. Don't listen to critics..they don't like movies like this. Go see it for yourself!
February 24, 2023
Nothing new here. Predicable script. All the present elements used for a sentimental audience.
February 19, 2023
Was a wonderful movie, Tom Hanks as always was great. I alternated between laughing and crying throughout the whole movie. Certainly a movie that makes you really think about life.
February 18, 2023
A movie that cries and hopes you will too. I didn't.
February 16, 2023
Always been a big fan of Tom Hanks, when I first saw him in Happy Days. I felt the movie was happy and sad. Some were very emotional and some very intense scenes. Tom is still a great comedian as well, even in a drama movie.