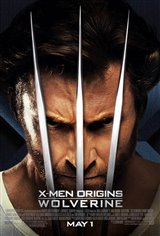 X-Men Origins: Wolverine
X-Men Origins: Wolverine, the first chapter in the X-Men saga, unites Wolverine with several other legends of the X-Men universe, in an epic revolution that pits the mutants against powerful forces determined to eliminate them.
Hugh Jackman reprises the role that made him a superstar, as the fierce fighting machine who possesses amazing healing powers, adamantium claws, and a primal fury known as berserker rage. X-Men Origins: Wolverine stays true to the tone of the X-Men motion picture franchise, continuing the films' balance between spectacle and reality, while heightening the emotions and relationships.
The film also introduces a team of mutants, including several whose appearances in the movie series have been long anticipated. Movie audiences will meet Team X, a covert military cadre comprised entirely of mutants. Its members are: Wolverine; his brother Victor Creed (Liev Schreiber), aka Sabretooth, a feral being of unimaginable power; Wade Wilson (Ryan Reynolds), later to be known as Deadpool, a high-tech mercenary skilled at swordplay; Agent Zero (Daniel Henney), an expert tracker and lethal marksman; Wraith (Will.i.am), a teleporter; Fred J. Dukes (Kevin Durand), also known as The Blob, a morbidly obese and super-strong behemoth; and Bradley (Dominic Monaghan), who can manipulate electricity. Leading them is William Stryker (Danny Huston), a figure introduced in X2: X-Men United, but whose origins and motives are now fully explored, for it is Stryker's complex relationship with Wolverine that defines much of Logan's past... and future.
| | |
| --- | --- |
| Cast: | Hugh Jackman, Liev Schreiber, Danny Huston, Dominic Monaghan, Ryan Reynolds, Taylor Kitsch, will.i.am , Lynn Collins, Kevin Durand, Daniel Henney |
| Director: | Gavin Hood |
| Studio: | 20th Century Fox |
| Producer(s): | Lauren Shuler Donner, Ralph Winter, Hugh Jackman |
| Writer(s): | David Benioff, Skip Woods |
| Official Site: | www.x-menorigins.com |