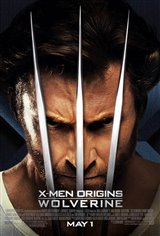 3.32/5
Based on 4578 votes and 213 reviews.
Please rate between 1 to 5 stars
Showing 1-10 of 213 reviews
May 12, 2018
It was sooo good! Ryan Reynolds put his definitive stamp on the Deadpool character in a great supporting turn. Definitely a flick to revisit before heading out to DEADPOOL 2!
May 23, 2016
Non-stop excitement powers this massive crowd-pleaser to the top of the X-MEN franchise.
February 14, 2016
Best of the X-Men Origin movies! Jackman (Wolverine) and Reynolds (Gambit) are simply extraordinary!!!
December 20, 2011
i didn`t like it...I LOVED IT
December 20, 2011
why this film be 3 stars?! 5 stars because the visual FX were great and this film should be at the oscars for best visual FX.literley!!!
December 14, 2010
this movie is sooooooooooooo awsome 5 stars 4 my vote
July 28, 2010
Short and sweet. My biggest criticism though would be that this film was SO short and sweet that it seemed overly breezy and simple. So much so that it seemed like scenes were missing, which kind of defeats the purpose of editing for time contraints. Like, what made Sabretooth take out all his animosity on Wolverine? What happened when Gambit escaped from Stryker's facility? There was great depth that could have been explored in this story, and as big and unweildy as Xmen 3 was, this one was too truncated and somewhat shallow. I think that's pretty much as far as this film's weaknesses go. Liev Shreiber was absolutely great as Victor Creed, as was everyone else in thier roles: Danny Huston,
October 6, 2009
best xmen movie
October 6, 2009
great movie , goin 2 watch dis again
September 27, 2009
Best X-men movie so far,It goes way more into relevant storylines.