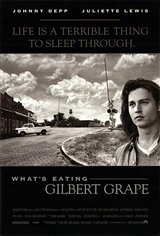 What's Eating Gilbert Grape?
What's Eating Gilbert Grape?
Gilbert Grape (Johnny Depp) lives in Endora, a place where nothing much happens. The only times the police got something to do is when Gilbert's autistic brother Arnie (Leonardo DiCaprio) tries to climb up on the watertower nearby.

Taking care of Arnie is mostly Gilbert's task, which can be pretty demanding, at least while you are working at the local grocery store. Then one day Becky (Juliette Lewis) and her grandmother pass through Endora getting trouble with the car. Gilbert falls in love with Becky, but runs into problems when he tries to find time for his own private life.

Based on the novel by Peter Hedges, who also wrote the screenplay.
| | |
| --- | --- |
| Cast: | Johnny Depp, Leonardo DiCaprio, Juliette Lewis, Mary Steenburgen, Kevin Tighe, John C. Reilly, Crispin Glover, Darlene Cates, Laura Harrington, Penelope Branning |
| Director: | Lasse Hallström |
| Studio: | Paramount Pictures |
| Producer(s): | Bertil Ohlsson, David Matalon, Meir Teper |
| Writer(s): | Peter Hedges |