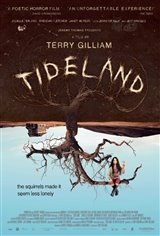 Tideland
Jeliza-Rose (Jodelle Ferland) is a young child in a very unusual situation -- both parents are junkies. When her mother dies, she embarks on a strange journey with her father, Noah (Jeff Bridges), a rock'n roll musician well past his prime.

Jeliza-Rose escapes from the vast loneliness of her new home into the fantasy world that exists in her imagination. In this world fireflies have names, bog-men awaken at dusk, and squirrels talk. The heads of four dolls, long since separated from their bodies, keep her company: Mystique, Baby Blonde, Glitter Gal and Sateen Lips, until she meets Dickens (Brendan Fletcher), a mentally damaged young man with the mind of a ten-year-old.

Based on Mitch Cullin's highly acclaimed novel of the same name.