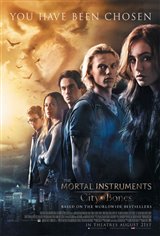 The Mortal Instruments: City of Bones
Clarissa "Clary" Fray (Lily Collins) has been living quietly in Brooklyn for as long as she can remember, when she suddenly begins to see startling and seemingly impossible things. Just as suddenly, her single mom (Lena Headey) disappears after a violent struggle. As she and her best friend Simon (Robert Sheehan) search for her mother, Clary begins to uncover the dark secrets and darker threats in the hidden world of the Shadowhunters, angel-human warriors who have protected humanity from evil forces for centuries.
Surrounded by demons, warlocks, vampires, werewolves and other supernatural denizens of the Shadow World, Clary joins forces with young Shadowhunters Jace (Jamie Campbell Bower), Isabelle (Jemima West) and Alec (Kevin Zegers) to locate and protect an ancient Cup that holds the key to her mother's future. Discovering abilities and courage she never knew she possessed, the young woman surprises even herself as she proves to be a formidable opponent against an array of deadly adversaries.
Based on the first book of Cassandra Clare's fantasy adventure series, "The Mortal Instruments."
| | |
| --- | --- |
| Cast: | Lily Collins, Jamie Campbell Bower, Robert Sheehan, Kevin Zegers, Lena Headey, Kevin Durand, Aidan Turner, Jemima West, Godfrey Gao, CCH Pounder, Jared Harris, Jonathan Rhys Meyers |
| Director: | Harald Zwart |
| Studio: | Screen Gems |
| Producer(s): | Robert Kulzer, Don Carmody |
| Writer(s): | Jessica Postigo |
| Official Site: | themortalinstrumentsmovie.com |