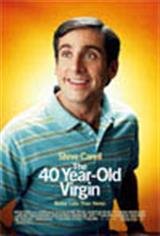 The 40-Year-Old Virgin
Andy Stitzer (Steve Carrell), 40, has a good job at an electronics superstore, a nice apartment with a treasured collection of action figures and comic books, good friends and a nice attitude. But there's something different about him -- he's awkward with women and is still a virgin.
His friends think that's weird and decide it's their duty to help him change his virginal status. After several attempts to get him to meet a woman so he can take the plunge, nothing seems to work. Until he meets Trish (Catherine Keener), a woman his age who's the mother of three kids. Andy's friends are psyched by the possibility that it may finally happen...until they hear that Andy and Trish have begun their relationship based on a mutual no-sex policy.
| | |
| --- | --- |
| Cast: | Steve Carell, Catherine Keener, Paul Rudd, Romany Malco, Seth Rogen, Elizabeth Banks, Leslie Mann, Jonah Hill, Kat Dennings, Jane Lynch |
| Director: | Judd Apatow |
| Studio: | Universal Pictures |
| Producer(s): | Clayton Townsend, Judd Apatow, Shauna Robertson |
| Writer(s): | Judd Apatow, Steve Carell |
| Official Site: | www.the40yearoldvirgin.com |