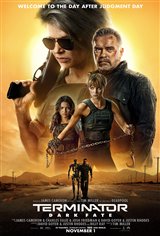 Terminator: Dark Fate
Following the events of Terminator 2: Judgment Day, Sarah Connor (Linda Hamilton) experiences a terrible, life-changing loss. Years later, Skynet deploys a powerful new Rev-9 Terminator (Gabriel Luna), deadlier than any previous model, to hunt down and kill Dani Ramos (Natalia Reyes), who is key to the new future resistance.
Grace (Mackenzie Davis), an augmented human super soldier, time travels to Mexico to save Dani and is joined by a battle-hardened Sarah Connor. The three women are led to a T-800 (Arnold Schwarzenegger) from Sarah's past. His involvement may prove to be their best hope to save not only themselves, but the future.