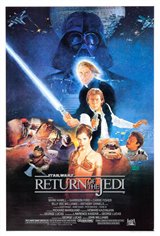 Star Wars: Episode VI - Return of the Jedi
After Luke Skywalker (Hamill), Princess Leia (Fisher), Chewbacca (Mayhew) and the two droids, C-3PO (Daniels) and R2-D2 (Baker), rescue Han Solo (Ford) from the clutches of Jabba the Hutt back on Tatooine, the group joins up with the Rebel forces who are preparing a major assault on the Empire. The plan is to have Luke, Leia, Han, Chewbacca, and the droids slip onto planet Endor where the Empire keeps their power generator used to create a force field around the Death Star. Once the generator is destroyed, the Rebellion will make an all out attack on the Death Star in the hopes of destroying it and Emperor Palpatine (Ian McDiarmid), hidden inside.
But while on Endor, Luke is troubled by the knowledge that to become a Jedi, he must destroy Darth Vader (Prowse/Jones), who has discovered Luke's location using the Force.
| | |
| --- | --- |
| Cast: | Mark Hamill, Harrison Ford, Carrie Fisher, Alec Guinness, Anthony Daniels, Kenny Baker, Peter Mayhew, Billy Dee Williams, Frank Oz, David Prowse, James Earl Jones, Jeremy Bulloch, Ian McDiarmid, Billy Williams, Sebastian Shaw, Denis Lawson |
| Director: | Richard Marquand |
| Studio: | Lucasfilm Ltd. |
| Producer(s): | Howard Kazanjian |
| Writer(s): | George Lucas, Lawrence Kasdan |
| Official Site: | www.starwars.com |