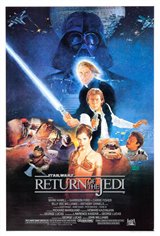 4.27/5
Based on 1417 votes and 10 reviews.
Please rate between 1 to 5 stars
Showing 1-10 of 10 reviews
March 24, 2020
good movie, the best out of the star wars movies.
December 5, 2010
the best of the orginal star wars movies
May 31, 2008
i dont mean to be pushy BUT THEY SHOULD MAKE ANOTHER ONE jesus.the only thing i hate is luke like they should still make him like anakin (hayden christan) but i still like star wars. RATE THIS MOVIE I BEG U NOW WILL U EXCUSE ME IM GOING TO WATCH ALL THE EPISODES WITH MY BOYFRIEND.THANKS ALOT
May 31, 2008
star wars is awsome attack of the clones is more better if u insist especially hayden christian he`s HOT. maybe he shold do another movie i know i have a boyfriend bot i wish haydon was mine.
May 27, 2005
EWOKS MADE IT A LITTLE TOO CHILDISH
March 21, 2005
Awesome movie! The speeder-bikes where the best.
December 16, 2004
I THINK IT`S THE BEST FILM EVER MADE IT`S AWESOME
November 19, 2004
MY ONLY PROBLEM WITH THE MOVIE ARE THE EWOKS.I WOULD HAVE APPRECIATED THE ORIGINAL WOOKIE IDEA .
July 5, 2004
The Star Wars movies are the best in the line of make believe and outter world experiences. Each movie in their own right takes you to a whole new vision of what space is really like, and for that I applaud George Lucas. Jabba, Chewie, Yoda... each character brings in a different perspective of alien life and imagination to alien life forms. I thank George for soon to be 6 fantastic movies.
May 17, 2002
STAR WARS IS THE BEST!!! from episode 1,2 - 3,4,5 they all rock!!!