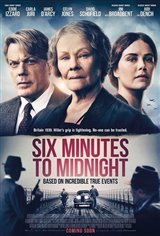 Six Minutes to Midnight
In 1939, Thomas Miller (Eddie Izzard) applies for a teaching job at Augusta-Victoria College for girls, after the previous English teacher mysteriously disappeared. Miss Rocholl (Judi Dench), the British headmistress of the German school for girls, is not particularly impressed with Miller, but hires him anyway because she needs to fill the position quickly, and because he's half-German and bilingual.
The school is promoted as a place to encourage understanding between British and German people. However, it's sponsored by Nazis and the girls are the daughters of high-ranking Nazi officials. Soon after Miller arrives, his predecessor is found washed up on the beach and Miller, who is actually a government agent, suspects the teacher was the victim of foul play. He quickly learns that the girls are being taught how to be good Nazis as he notices teachings of the Third Reich taking place and hears the girls and some of the teachers listening to radio broadcasts of Nazi propaganda. But when Miller reports his findings to his superiors, things escalate and his life is put in danger.