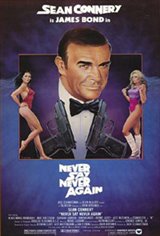 Never Say Never Again
The title of the 1983 James Bond adventure Never Say Never Again is a self-mocking reference to star Sean Connery's insistence back in 1971 that he would never play Bond again. Reportedly, the huge salary offered Connery was but one consideration that brought him back to the 007 fold; the other was the producers' assurance that Connery would have full control over all aspects of production, a promise that was not kept often enough to the star's liking.
Essentially, this film is a remake of the 1965 Bond flick Thunderball (the producers were able to get away with this due to a legal tangle involving the original 1961 Ian Fleming novel). Bond emerges from cozy retirement to cross swords with Largo (Klaus Maria Brandauer), a megalomaniacal business exec who steals several nuclear missiles, intending to bring the World Powers to their knees. Kim Basinger plays Domino, Largo's mistress, whose loyalty Bond secures when she learns that Largo was responsible for the death of her brother. In addition to Basinger, the film boasts a toothsome villainess by the name of Fatima Blush (played by Barbara Carrera).