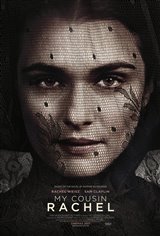 My Cousin Rachel
| 12 Reviews
Write a Review
In Theaters: June 9, 2017
On DVD/Blu-ray: August 29, 2017
My Cousin Rachel
When young Englishman Philip (Sam Claflin) reads a letter from his former guardian that tells of the torture he is enduring at the hands of their beautiful cousin Rachel (Rachel Weisz), whom he has married, Philip sets off by horseback to help. When Philip discovers his guardian is dead, he decides to get revenge, believing Rachel to be a murderess.
When he meets Rachel, Philip finds her to be a charming, beautiful woman. She explains to him what happened, saying that her husband became ill and was hallucinating when he wrote that letter. He trusted no one and tried to hurt her. Philip slowly begins to fall under Rachel's spell himself and becomes infatuated with her, even though he begins to feel ill after she serves him a foul-tasting tea.
Adapted from Daphne Du Maurier's 1951 novel of the same name.