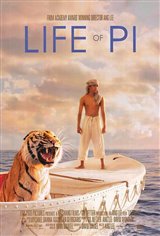 Life of Pi
A man named Pi tells a story that occurred when he was 16. When his family decides to move their zoo from India to Canada, Pi winds up as the only human survivor of the tragic sinking of a cargo ship.
On the sea in a lifeboat, he's accompanied by the other survivors—a zebra, a hyena, a female orangutan and a 450-pound aggressive Bengal tiger named Richard Parker. Pi tries catching fish to feed the tiger so he won't get eaten himself.
When officials from the Maritime department don't believe his story, Pi tells them another one but this time with a slightly different angle.
Andrew Garfield was initially considered for the role of "The Writer" but Tobey Maguire was cast. As filming progressed, Maguire was replaced by Rafe Spall because the director thought Maguire's fame would have been too distracting.
Life of Pi is based on the best-selling novel by Yann Martel.
| | |
| --- | --- |
| Cast: | Suraj Sharma, Irrfan Khan, Tabu , Adil Hussain, Gérard Depardieu, Rafe Spall, Tabu , Gautam Belur, Ayush Tandon, Vibish Sivakumar, Ayan Khan, Mohd Khaleeli, Jun Naito |
| Director: | Ang Lee |
| Studio: | 20th Century Fox |
| Producer(s): | Ang Lee, David Womark, Gil Netter |
| Writer(s): | David Magee |
| Official Site: | lifeofpimovie.com |