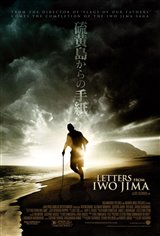 Letters from Iwo Jima
Sixty-one years ago, US and Japanese armies met on Iwo Jima. Decades later, several hundred letters are unearthed from that stark island's soil. The letters give faces and voices to the men who fought there, as well as the extraordinary general who led them.

The Japanese soldiers are sent to Iwo Jima knowing that in all probability they will not come back. Among them are Saigo (Kazunari Ninomiya), a baker who wants only to live to see the face of his newborn daughter; Baron Nishi (Tsuyoshi Ihara), an Olympic equestrian champion known around the world for his skill and his honor; Shimizu (Ryo Kase), a young former military policeman whose idealism has not yet been tested by war; and Lieutenant Ito (Shidou Nakamura), a strict military man who would rather accept suicide than surrender.

Leading the defense is Lt. General Tadamichi Kuribayashi (Ken Watanabe), whose travels in America have revealed to him the hopeless nature of the war but also given him strategic insight into how to take on the vast American armada streaming in from across the Pacific.

With little defense other than sheer will and the volcanic rock of the island itself, Gen. Kuribayashi's unprecedented tactics transform what was predicted to be a quick and bloody defeat into nearly 40 days of heroic and resourceful combat.

Almost 7,000 American soldiers were killed on Iwo Jima; more than 20,000 Japanese troops perished. The black sands of Iwo Jima are stained with their blood, but their sacrifices, their struggles, their courage and their compassion live on in the letters they sent home.