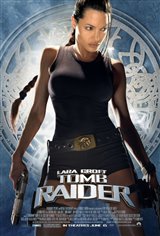 Lara Croft: Tomb Raider
Born into wealth and provided with the best education, Lara Croft travels the world in search of rare, lost crypts and long-forgotten empires.

After discovering an ancient clock left by her late father, she will face her greatest challenge - to find two halves of an ancient artifact buried at two ends of the earth. To possess the two halves means ultimate power for its possessor and a rival of Lara's is keen on getting his hands on that power. To get to the relic, Lara must take on a powerful and dangerous society.

The film is based on the popular video game of the same name.