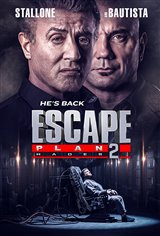 Escape Plan 2: Hades
Security expert Ray Breslin (Sylvester Stallone) manages an elite team of specialists trained in the art of breaking people out of the world's most impenetrable prisons.

His most trusted operative, Shu Ren (Huang Xiaoming), is kidnapped during a party for his cousin, Yusheng (Chen Tang), and finds himself behind bars in H.A.D.E.S. (High Asset DEtention Service) Prison. There, Shu meets Gregor Faust (Titus Welliver), who tells Shu that Yusheng gave up his first patent technology with all its specs and details, and now they want his second patent, but Yusheng refuses to give it to them.

Faust asks Shu to help him get the patent. When Shu asks his cousin about it, Yusheng tells him the first patent was of no consequence, but the second one could be very dangerous if it winds up in the wrong hands — shutting down defence systems and launching nuclear missiles. 

Ray gets inside the prison and with the help of some of his former friends, tries to break Shu out.
| | |
| --- | --- |
| Cast: | Sylvester Stallone, Dave Bautista, Huang Xiaoming, Jesse Metcalfe, Curtis "50 Cent" Jackson, Wes Chatham, Jaime King, Titus Welliver, Chen Tang |
| Director: | Steven C. Miller |
| Studio: | Lionsgate Home Entertainment |
| Producer(s): | Mark Canton, Randall Emmett, George Furla, Robbie Brenner, Zack Schiller, Xing Su, Jie Qiu |
| Writer(s): | Miles Chapman |
| Official Site: | escapeplan2.movie |