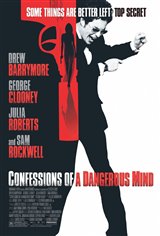 Confessions of a Dangerous Mind
Confessions of a Dangerous Mind
Television made him famous, but his biggest hits happened off screen. Confessions of a Dangerous Mind is the story of a legendary showman's double life -- television producer by day, CIA assassin by night.

Young, energetic, and focused on a top career in the growing television industry, Chuck Barris (Rockwell) finds himself being followed by a suspicious character who quickly lures him into a secretive and dangerous world: that of a CIA operative. While Barris gains notoriety as a dynamic television producer -- creating such innovative and popular game shows as The Newlywed Game and the self-hosted The Gong Show -- he regularly executes assassinations for the United States government. As ratings rise, Barris incorporates his shows into his secret life: winning couples on The Dating Game find themselves shipped off to "fabulous Helsinki" and "romantic West Berlin" for their dream dates -- it isn't Paris, but it provides chaperone Barris a cover for his covert missions.

As Barris basks in the glamour of his two worlds -- entertainment and espionage -- his life begins to spiral out of control. He is torn between the woman who loves him and mysterious woman of his fantasies. He receives mass criticism from the public who accuses him of contaminating the airwaves... and he finds himselft marked for death by a traitor operative.

Barris must regain control of his life. Both of them.